Case Study
Tito's Recipe Finder
Case Study
Recipe-finding made smooth with a robust database refresh.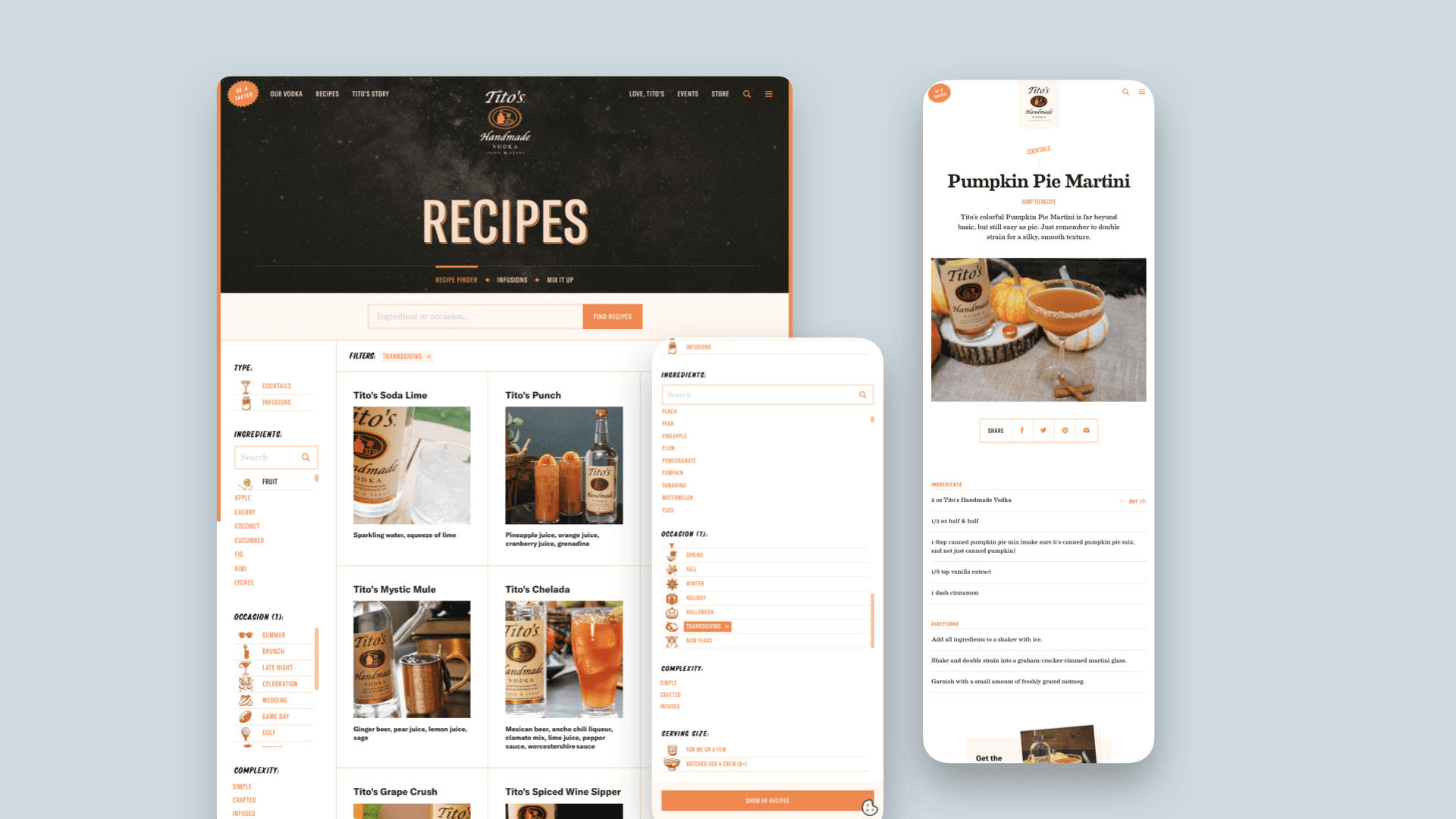 The Situation
Tito's Handmade Vodka had some big dreams to bring to life after their web launch. That's when they called us. We serve as an extension of their internal marketing team, helping with ongoing maintenance and bringing some additional functionalities to the site that they haven't had before. But one dream hadn't come to life yet…
For years, they had been collecting a database of drink recipes in hopes of becoming a useful resource for Tito Vodka-lovers. However, the database they were using made it difficult to enter in new recipes and find old ones, let alone be found by a user on their site altogether.
They needed a web dev team to come in and shape up their database to be a fun, easy-to-use resource with a deceivingly simple search functionality, filters, time-of-year features, and blog post links.

Our Approach
We first began the project with a simple refresh, in hopes of making the database and recipes align with Tito's Handmade branding. Shortly into the project, we discovered some intrinsic problems with the search capabilities and overall functionality of the database. What we thought would be a band-aid project turned out to need some intensive surgery.
So we went back to the drawing board and came up with a new plan, starting with an unmatched user experience and search functionality. Once that was in place, we could really make the design shine.
After figuring out how to best organize the recipes to make them more searchable and upgrading the back-end functionality of the database, we dove into the design by adding a few creative touches to Tito's already-established (and awesome) branding. The branded icons and illustrations brought the database together in a fun, delightful way.
Relaunched Tito's Handmade Vodka Recipe Finder on their current site
Improved search filters for both mobile and desktop
Added personalized icons and illustrations that remained on-brand with Tito's Handmade
Increased searchability, functionality, and back-end use for adding future recipes
Put the recipe finder front-and-center for easy access

"Beautiful, functional and on-brand"
Ready to start your project?
Schedule a call and experience a web development process as smooth as Tito's Handmade Vodka.