Feb 14, 2022 • By Garrett Winder
WordPress vs Craft CMS: which should you choose?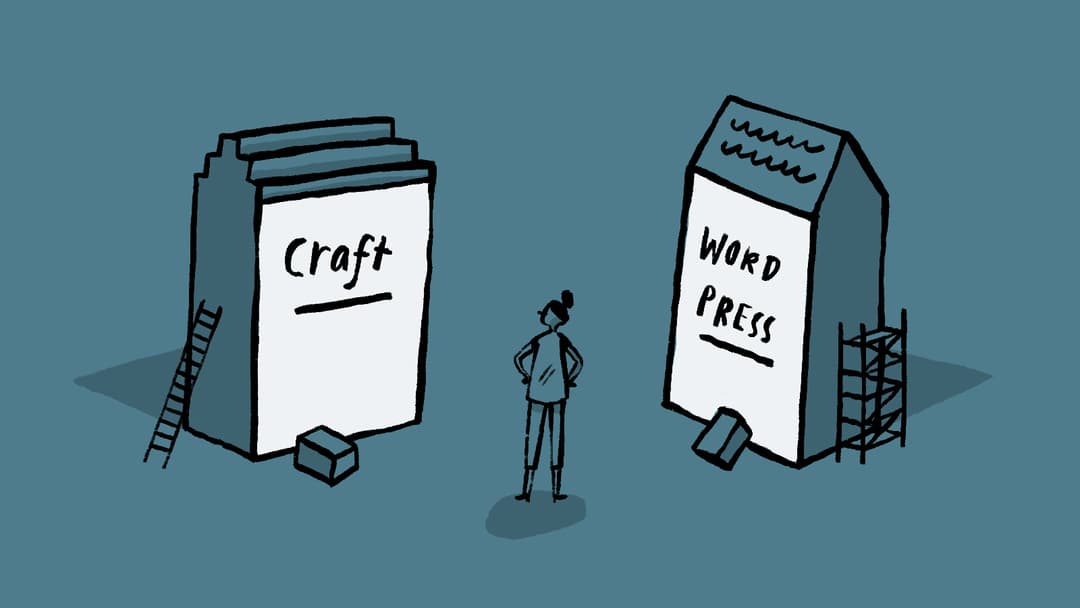 Content management systems (CMSs) allow you to create, edit and manage pages and content on your website with little need for ongoing development support. There are hundreds of CMSs available to you, but this article will focus on the two that we talk to clients the most about: WordPress and Craft.
WordPress was one of the first CMSs. Initially, pre built as a blogging platform, it has evolved into a more traditional content management system over the last 20 years. With the all-inclusive evolution, the open source interface is known to feel clunky. But it's free!
Craft solves common content management pain points out of the box without requiring complex workarounds or too many third-party plugins. It's built for modern websites to be what you need and nothing more. Craft costs $299 upfront and then $59 per year after that. Craft shines in its ability to power custom websites with unique content needs and relationships.
Good Work is a Craft shop. We've been working with Craft since day one, we're a verified partner, and it's the CMS platform we use to make 99.9% of our websites.
BUT... unless you're coming to us with a preexisting Craft website or did your research and already want to build your website in Craft, nine times out of ten, you're probably much more familiar with WordPress. This is especially true for our design agency clients who may be hesitant to go all-in on a system that they've heard little to nothing about.
The questions I get about WordPress vs Craft CMS usually fall into the following four categories:
Ease of Use
Website Security
Search Engine Optimization
Development Community
Let's get to it. For the purpose of this article, I'm going to assume you're familiar with WordPress and are looking to learn more about Craft to decide if it's suitable for you.
Craft vs. WordPress Ease of Use
As I mentioned earlier, WordPress tends to be bulkier because of how much is included, whereas Craft will feel more intuitive because it's built to be just what you need and nothing more. To demonstrate, I set up fresh installations of both systems.
Along the left-hand navigation in Craft, there are seven choices: Entries, Globals, Categories, Assets, Users, Utilities, and Plugin Store. More often than not, a typical website by Good Work will only show four of these: Entries, Globals, Assets, and Users. (Compare that to 15 or so for WordPress.)
Entries
There are three different types of entries in Craft: Singles, Channels, and Structures.
Singles
Singles are for one-off pages like a homepage or about page, and while it's a minor feature, it's a crowd favorite. Historically, content managing one-off pages can be slightly awkward, but with Craft, it is intuitive.
Channels
Channels are for repeatable content like news, blog posts, or even an A-Z dictionary. It includes content ordered chronologically or alphabetically.
Structures
Structures are for repeatable content that you control the order. Think employees on a team page or a list of services on your service page. Once you wrap your head around this, it's a huge selling point for Craft CMS.
Globals
Within Globals, you'll find a place to store content used throughout the site, not just within a specific entry. Use Globals for content like phone numbers, company addresses, or social media links.
Assets
Assets are just that. A place where all the files (images, videos, PDFs, etc.), whether assigned to an entry or not, can be organized and easily located.
Users
Lastly, users. This is where you manage user permissions and settings for the different content editors on your website.
Finally, Craft's Live Preview feature is second to none. Content editors need to see the effects of their content changes before going live, and live preview allows you to do just that, in real-time, directly from Craft's control panel.
Website Security
Internet security issues are only increasing, and this is an area where Craft shines. WordPress websites are most often hacked due to vulnerabilities in plugins and themes. Since it's the most widely used content management system, it is more known and targeted for hackers. WordPress accounts for 35% of the internet, but in 2018 it accounted for 90% of CMS hacks. No matter what CMS you choose, keeping the CMS and plugins updated is essential. This is true to Craft as well, though Craft is far less targeted (see: 90,000 sites vs. 30 million sites), and Craft does not have themes, one of the two main vulnerabilities in WordPress.
For more information on Craft's Security, you can read the Security Guides on their websites: https://craftcms.com/knowledge-base/security.
Search Engine Optimization
While technical SEO mainly falls to the developer and is rarely CMS-related, Craft and WordPress both have good solutions for managing SEO content. If you've worked with WordPress before, then you're familiar with Yoast. The Craft alternative to Yoast is called SEOmatic. Luckily for you, we've already written extensively on the subject in our How to set up an SEO-friendly Craft CMS website article.
Development Community
On the one hand, we have WordPress, the most widely used content management system on earth. There are over 30 million WordPress sites, and it powers over 35% of the internet. StackExchange, where developers ask other developers questions, has 165,000 WordPress members (developers). It's not hard to find WordPress development.
Roughly 90,000 websites use Craft, which is A LOT. It's easy to find Craft developers, too. As of this writing, there are 9,700 StackExchange members (developers) and 225 verified Craft Partner Companies. Needless to say, if your Craft developer gets hit by a bus, your website will be okay.
Both Craft and WordPress are far from proprietary. They have a large enough user base that you'll never need to worry about finding future development resources or getting stuck with a development company that you're unhappy with.
Does Craft power 35% of the internet? No. But it has a large (and growing) development community and has been adopted by big names like PBS, Tito's, Canon, and AP.
In Summary
If you're trying to decide whether to go with Craft vs. WordPress, always consider your website goals. Both systems can handle Search Engine Optimization and have thriving development communities. But if you want a modern website that's a joy to use and much less likely to get hacked, that's Craft CMS every time.